El Remolon – Senderos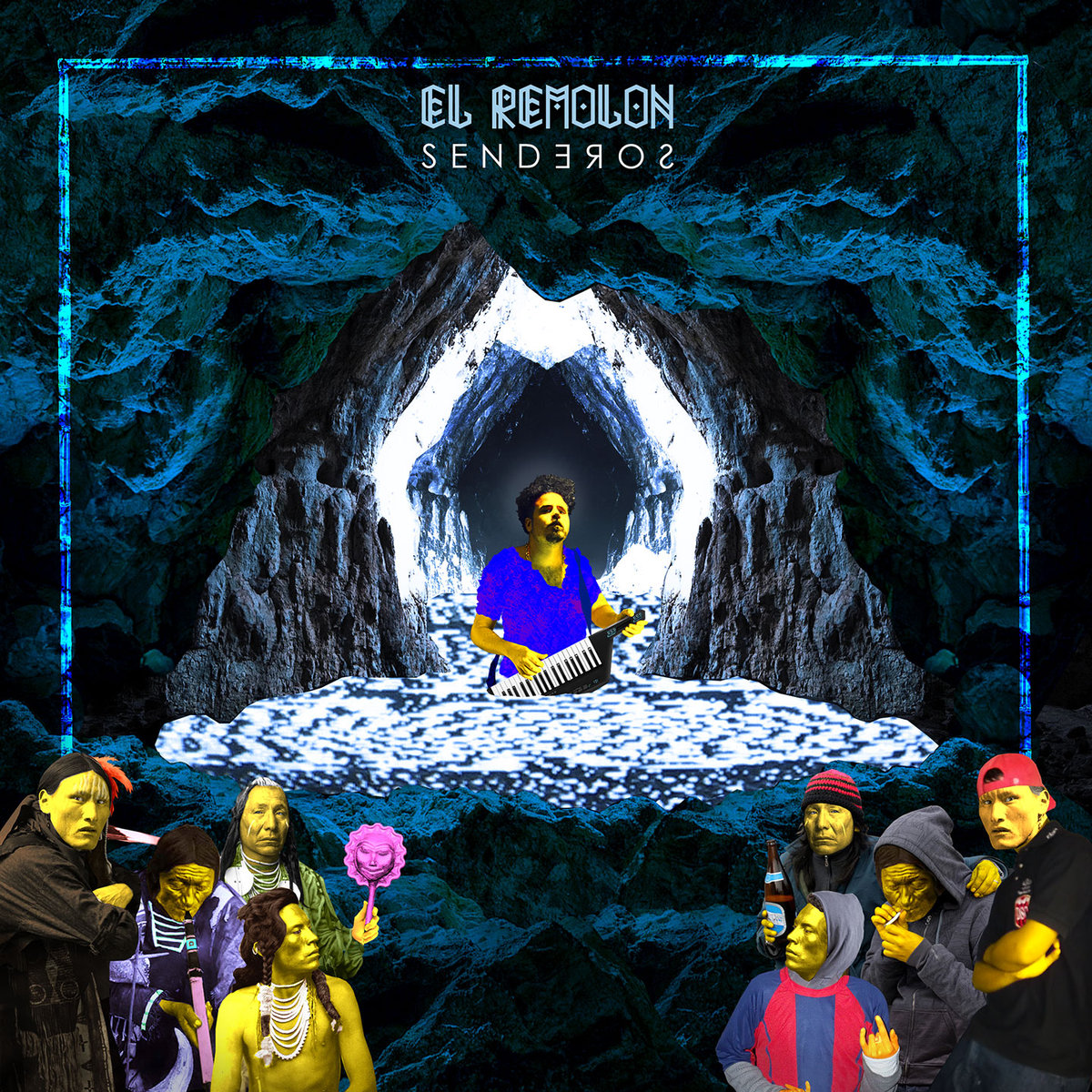 El Remolón está de vuelta, luego de su último trabajo Selva, ahora nos sorprende con "Senderos" un EP largo o mini álbum o quizás una transición en su carrera.
Senderos es una proliferación de caminos donde el hilo conductor pasa por el viaje mismo, permitiendo atravesar ritmos y formatos: sonidos ácidos, bases de aire housero, trap, voces profundas, autotune y sintetizadores que sugieren minimalismo o cumbia villera. En esa ruta tan abierta, hay algo que destaca por sobre anteriores trabajos de El Remolón, y es la claridad de un mensaje político, centrado en la emotividad y la primera persona, apuntando siempre a un centro: el amor.
El recorrido va desde el groove lento pero de bombo intenso y líricas oscuras como el tema que abre, "Guerreros del Amor" a "Calma Chicha", un tema tranquilo y al mismo tiempo bailable. No todo es lindo ni todo es alegre, asi y todo hay sobrados motivos para el festejo y la reflexión.
"Una secta escondida se despierta en la argentina" canta Jin Yerei, uno de los invitados del disco, en el tema que da título al álbum: el amor y la música como resistencia y como punto de partida.
Finalmente, una neo-acid-cumbia-turra progresiva de 12 minutos, compuesta especialmente para la obra de danza "La Pelota" es como la coronación de que la cumbia aún sigue viva y podría ser uno de los mejores caprichos de uno de los pioneros del movimiento de la llamada "cumbia digital".
Tracklist:
03:54 – 1 – Guerreros del Amor
05:32 – 2 – Dionisios
04:51 – 3 – Blindaje
04:02 – 4 – Senderos ft. Jin Yerei
03:23 – 5 – Apolo
06:34 – 6 – Calma chicha
12:05 – 7 – La pelota
FICHA TECNICA: Todos los temas compuestos por Andrés Schteingart (El Remolon), excepto Senderos, por Andres Schteingart y Federico Sanchez.
Programaciones y voces: Andres Schteingart
Juan Marnich: Guitarra en Guerreros del Amor y Calma Chicha
Federico Sanchez: Voz en Senderos
Mezcla y Mastering: Jero Escajal (Nogal Studio)
Arte de Tapa: Son Bo
Voces, guitarras y accesorios de percusión grabados en Estudio Submarino Naranja y Electrohippie
Senderos is not one but a bunch of different paths, connected by one main thread, which is the trip itself. It travels across ryhtms and formats: acid sounds, house reminiscent bases, trap, deep voices, autotune and synthesizers that could either come from a minimal track or a cumbia villera. Within this open route, there is one outstanding element, contrasting with El Remolon's previous works, and that is a clear political message, focused on personal emotions, always toward one center: love.
The journey begins with a slow but intense groove and the dark lyrics of Guerreros del Amor, and ends with Calma chicha, a quiet but danceable song. Not everything is nice or funny, nevertheless we have enough reasons to celebrate – and to reflect, too.
A hidden sect awakes in Argentina, sings Jin Yerei, one of the guests, in Senderos: love and music as resistance, but also as a departing point.
Finally, a 12 minutes neo-acid-turra progressive cumbia, especially composed for the dance play La Pelota, an epic song stating cumbia is still alive, and that could be one of the ultimate whims of this pioneer of the digital cumbia movement.
Music and lyrics: Andres Schteingart
Juan Marnich: Guitar in Guerreros del Amor and Calma Chicha
Federico Sanchez: Voice in Senderos
Mix and Master: Jero Escajal (Nogal Studio)
Cover art: Son Bo
Voices, guitars and precussions recorded at Estudio Submarino Naranja and Electrohippie
Escucha el disco aca:
https://www.youtube.com/watch?v=LQvF4GlhZQ8
https://fertildiscos.bandcamp.com/album/senderos